10th & Home - Married and Family Apartments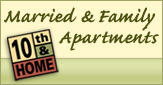 Georgia Tech's answer to stress-free living, 10th & Home offers the best of both worlds-the accessibility and ease of on-campus living with the comfort and privacy of luxury apartment-style living.
This tour is indicitave of our baseline quality. Highly detailed, fast loading, adapative lighting, and a perfect stitch from top to bottom. As an added benefit, we consulted on how to use a touch of custom CSS to embed our tour more perfectly into their existing website.
http://10thandhome.housing.gatech.edu