Gorgeous iPad, iPhone Virtual Tours
More than 200 million iOS devices and 25 million iPads have been sold.
Wouldn't you like all these users to see your venue or space?
See It 360 now introduces GORGEOUS virtual tours for the iPad, and iPhone.
There is no better way to display a virtual tour than on the iPad.
Simply use your finger to look around and interact.
Each virtual tour may include hotspots, sound, logos, links to your website and Facebook page, photos, links to share your virtual tour in Facebook and other social media sites and MUCH MUCH more.
Each virtual tour also comes in an Adobe Flash version when displayed on desktops or the latest Google Android devices.
So what do iPad, iPhone users see on our competitors tours?
Just this..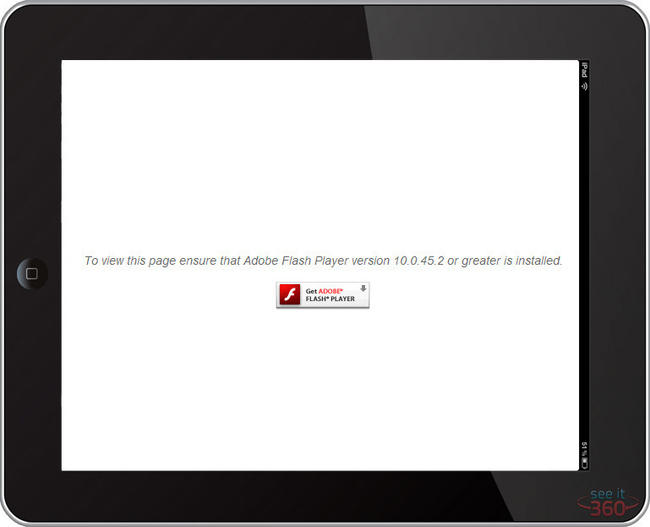 Now there is no need to worry about purchasing a virtual tour that a LOT of people will not be able to see. From the desktop to the average smart phone, your clients will be able to see one of your most valuable marketing assets.
Additionally, our virtual tours are setup to play directly on Facebook, display nicely on all sizes of monitors and also may be embedded on your website along with other content.
Don't panic! We can help you through any complexity and show you every way our tours may be utilized to maximize their potential.
Latest HTML5 & Flash Virtual Tour Examples:
Art Gallery: Chic - Evolution in Art
Private Event Space: 103 West
Travel: Casco Antiguo Panama
Restaurant: Pricci
Restaurant: Atlanta Fish Market
Real Estate: 250 Park Avenue West
If you already have a See It 360 virtual tour we can convert your previous tour for a nominal cost.
Contact us today to showcase your space!
United States and International Sales
404-551-4275 sales@seeit360.com
Latin America Sales
+507 6205-7467 rrios@southern-digital.com
+507 6070-1028 jwoolford@southern-digital.com
---