Real Estate Virtual Tours - Atlanta Georgia (GA)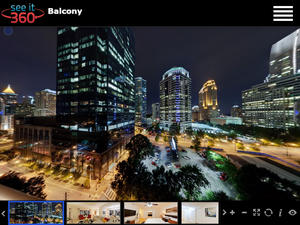 Finally, there is a high quality virtual tour service appropriate for high quality homes. Say goodbye to fuzzy & pixelated photography, confusing layout, tours that crash and stall browsers, and small pictures that make the house feel... well... small.
The homeowner has remodeled the kitchen, the bathroom, put in new landscaping, made every effort to get the house ready, and until now you've found no virtual tour provider to do justice to all their hard work.
Look no further! We understand image is everything. That's why all our virtual tours include professional photography. This means first and foremost, an eye for composition and then high end lenses and equipment to execute the shot. We take our time and cover everything that should be focused on and leave out what shouldn't.

Your virtual tour should make your house feel like a bargain and leave a lasting impression on the prospective buyer. By using our services, your house will have the right type of exposure and most likely sell quicker than houses with no or poor quality virtual tours.
We provide:
1. Professional Photography for use in all your online listings and print advertising. We don't set an arbitrary limit to our stills. We shoot everything that should be shot to help your property sell. Approximately 30-60 stills depending on the property.
2. One Professionally Produced 360 Panorama. Our panoramas are not distorted like you have seen before and come to expect. You should NOT accept it!
3. Flash plugin technology to support nearly all computers
4. Integrated Email Form (No need for Outlook, Eudora etc)
5. Google Map with street map and satelite view for the exact location and directions.
6. Detailed Information Form (Price/Square Footage/Address etc.)
7. FMLS compliant version for use on FMLS.com
8. Easy to remember Website Addresses (URL's)
9. A full page virtual tour / website. Ever notice the other guys only give you a tiny window in which to see everything?
10. Advanced Statistics - Know how many virtual showings you have received and how well your marketing is working compared to our other virtual tours.
11. Internet Domain matching the street address of the property
Example: http://www.seeit360.com/1101
In other words, everything you'll need to have the prospective buyer make that first contact and setup and appointment to see the house in person. Additionally, our virtual tours create such an exact impression of the house your potential buyers will always have something to go back to when comparison shopping.
Reasons to choose See It 360:
1. We help you get the listing. - Give your potential or current clients the assurance that you are giving their house or property the very best online exposure.
2. We help you sell it faster. - Our tours have greater online exposure. Realtor.com, FMLS, MLS, Google.com and all major search engines.

Are you the homeowner? For a $300,000 property or house with today's interest rates, an approximate interest payment is $1700. That means, if we can help you sell your house 3 or 4 days quicker, we've just helped you make money.

3. Sell it for more. - More viewers, more exposure, & more demand.
4. Sell it period. - When browsing hundreds of homes with and without virtual tours, which ones will they remember? Our virtual tours leave a lasting impression.

Don't gamble your commission and sale on the lack of or poor exposure by not utilizing high quality virtual tours and photography.
When you make your first sale due the advantage of See It 360, you'll quickly realize our tours practically pay for themselves!
PicturePath® is the path to successful Virtual Tours! Make sure that your Virtual Tours are getting the most visibility via REALTOR.com®. The PicturePath® program is a flexible and open program that allows participating Virtual Tour companies to send their full-featured Tours to REALTOR.com®.


Call us today at 404-551-4275 or email us at sales@seeit360.com.
Check out our recent virtual tours below: