Architectural Photography for The Noble Manor Bed & Breakfast
Jul 11 2011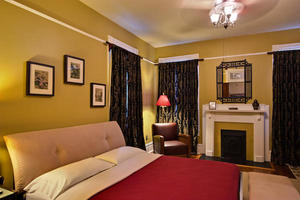 Pensacola, Florida is a great summer vacation spot, with its beautiful beach, delicious cuisine and historic attractions. The city is also home for the Blue Angels which will certainly add a lot of excitement to your trip if you go and experience one of their amazing shows.
The Noble Manor Bed & Breakfast is a charming and beautifully restored 1905 Tudor Revival home, owned by Bob and Bonnie Robertson, located in the North Hill Historic District of downtown Pensacola.
The Robertson's home offers the romance and elegance of a historic house, yet its updated decor makes it feel modern at the same time.
When assigned for this work, our goal was to show the main features of the bed and breakfast while showing the charm and delicate balance that the Robertsons have accomplished.
The first step for this project was to redesign their website and capture the beauty of The Noble Manor and Pensacola through our lens. This work was finished in 2009 and this gallery showcases some of the photos that we took for their website.
For information on the Noble Manor Bed and Breakfast please visit their website:
---