Kitchens by Turan Designs June 23
Jul 9 2011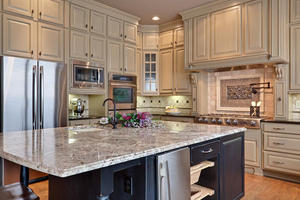 For the last couple of years, architechtural and design photography has become an important part of our portfolio. From builders interested to show all the elements and details of their work, to designers interested in highlighting the main features of their creations.
When making a portrait; you look for the best angle, the appropriate light and strive for that shot that best portrays the individual; interior photography requires the same efforts. This is an area of photography that we are thoroughly enjoying. The difference is that you do it with inanimated objects and the photos must communicate something to the target audience. These photos give our clients a very important tool to entice their prospects.
There is some work involved in having a successful photo shoot for architectural or design purposes. The most important for us are a clean area, appropriate staging and careful consideration of any other areas that while not in the main shot, would still be visible.
Once those elements are covered, then our creativity comes into place. This is the point when art meets business, because it is very important to understand our clients product and intentions, what they want to accomplish, their target audience and how they are going to use their photos.
In this gallery we are including a sample of the shots taken June 23rd for Turan Designs. Our client is well involved in the process and is clear about the purpose of the photos and what elements are important for them to showcase.
The kitchens are beautiful by themselves, but staging certainly helps to bring life to the spaces and at the same time, shows a style that would be pleasant to a wider audience. We are very happy with the results.
For information on Turan Designs please visit their website:
---