Chic Evolution in Art - Alter Ego - A Benefit for the Pancreatic Cancer
Dec 12 2011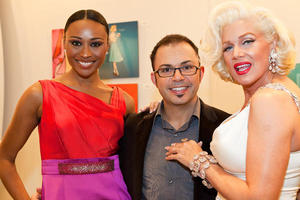 In a fun evening filled with music, Atlanta personalities, friends and good food, Chic Evolution in Art held a successful showing of Atlanta based artist Paul Wolski.
People enjoyed Wolski's fun approach to art, with his vibrant characters and catch phrases that filled the room with color in every corner.
Attendees to the event had the opportunity to meet the artist, chat with him and learn about his technique that mixes "pen & ink" and computer based-art programs to get the final results that were on display at the gallery. It was also an event with a good cause in mind, supporting the Pancreatic Cancer Action Network.
To capture the moment, we were there and share with you here some of the images. You can also learn more about Paul Wolski art work at his website http://www.alteregopopart.com.
To learn more about Chic Evolution in Art, visit their website at http://www.chic-art.net.
---